While prospects turn to your social channels for daily updates and to learn more about your brand. Keeping track of the analytical side of things is as important as providing your audience with brilliant content.
But with the growing increase in the number of social media channels. It's very difficult for small businesses to manage their social media channels manually. 
Thankfully, there are a lot of aiding social media management tools. Small businesses can exploit to ease the management of their social media channels. 
Without further ado, let's take a look at the some best free social media management tools.   

1. SEMrush
SEMrush is one of the best social media management tools. 
With its search engine ads and Google engine optimization features, SEMrush has both the function of social media and SEO tools.
Small businesses that like to build a quality and engaging content should consider utilizing this social media management tool.
Features
Keyword: It has a keyword tool that helps small businesses fetch different reports for keyword research.
Efficient reporting and analysis tool.
Like every other social media management tool, SEMrush has premium pricing plans namely: Pro and Guru.
However, small businesses can enjoy a free trial version of either of the premium plans. 
Below are the SEMrush plan features:
Pro:
100,000 pages to crawl
500 keywords to track
3 projects
PDF export 
More than 40 different social media management tools
Guru:
300,000 pages to crawl
1,500 keywords to track
300,000 pages to crawl
Branded PDF reports
Access to more than 40 different social media management tools.
Well detailed data
Multitargetting
2. ContentCal
ContentCal is a social media management tool for bringing your team together. It is ideal for handling content production and the managing of ongoing projects.
One of the perks of this tool is that you are not required to provide your credit card information before you can get started.
The ContentCal free trial package is also known as the hobbyist plan.
However, small businesses can only enjoy the free trial for only 14 days.
Features
When you sign up for a hobbyist plan, you stand to enjoy:
4 social  profile
10 monthly post
1 calendar
Email support
Other exciting features that cover the planning and publishing of contents, responding to a conversation, and analyzing review.
3. Hootsuite
The Hootsuite user interface is in the form of a dashboard. It can be integrated with other social networks like Instagram, LinkedIn, YouTube, Facebook, and Twitter. 
Features
Small businesses only have access to the Hootsuite free plan for 30 days only. The Hootsuite free plan features are:
Lead generation with a social contest
Easy integration for both free and premium apps 
2 RSS feed,  Trello, Slack, and other app integration included.
A visual calendar dashboard
Schedule a maximum of 30 posts.
Basic analytics to track followers
Manage 3 social profiles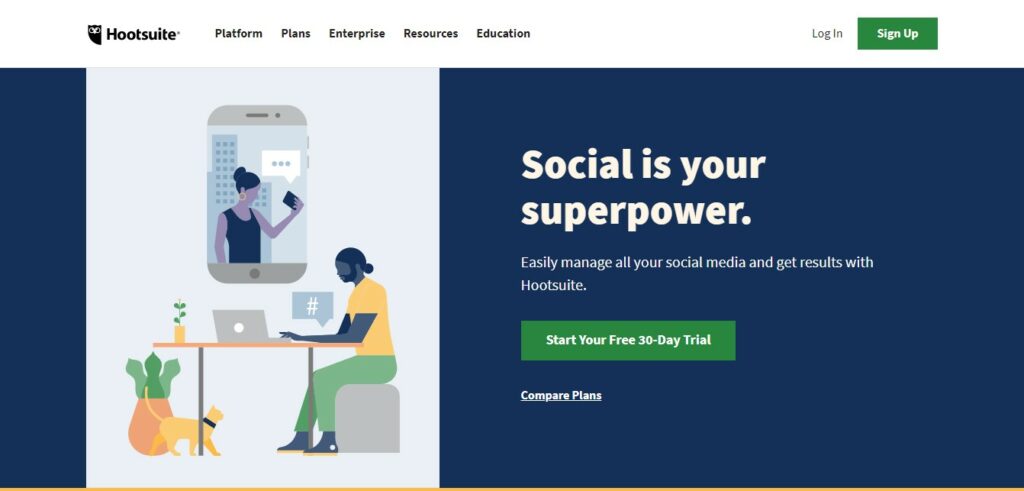 4. Google Alerts
Google alert is a powerful tool that enables small businesses to monitor their brand presence online. 
How can you set up a Google alert?
The first thing you need to do is visit google.com/alerts and log in with your Google account.
Select unique keywords: Avoid generic keywords. 
Choose a frequency: You can either select "real-time" or "when I have time?" option. Also, to receive notifications close to real-time select the "as it happens" option. 
Select your sources: Although google alert does not cover social media channels. Small businesses can track books, blogs, news, and videos with google alerts.
5. Iconosquare
This is Facebook and Instagram marketing tool and network research. Iconosquare offers small businesses thorough insight on how to thrive on social channels. 
The social media tool allows you to track your competitor's actions and plan updates.
Features
Advance analytics to help small businesses increase to generate revenue and boost sales.
An efficient and time-saving scheduler.
It enables the management of multiple profiles from a single dashboard. 
Small business owners do not have to be tech-savvy to find their way around Iconosquare. 
6. Social Mention
The free social media management tool helps you keep track of all your brand mentions across various social platforms.
Data collected from Social mention is subdivided into 4 categories: 
Strength: How often your brand is mentioned. 
Reach: The overall number of people the mention reach
Sentiment: It suggests the statistics of people's reactions from a mention. This is usually positive or negative.
Passion: This suggests if the mention is likely to be shared.
7. Sendible
Sendible is specifically designed for small and medium-sized enterprises with a large consumer base. On the platform, small businesses can link a minimum of 20 social media channels. 
The app has several organizing feature such as
Smart queues: This allows you to change publishing dates. And immediately recycle and engaging contents.
Community calendar: This is for linking and curating RSS feeds.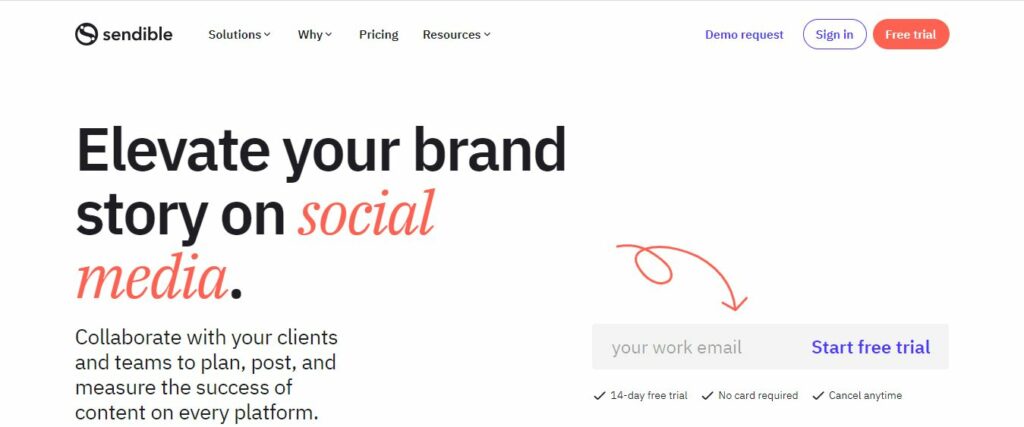 8. Buffer
This social media management is suitable for conducting social media campaigns involving multiple social media platforms. With the buffer, small businesses can easily schedule posts and manage their presence on social media.  
This app enables you to track your audience activity and help you figure out the ideal time to put contents out.
Features
The stories and hashtag planner features allow small businesses. To create stories without any hassle and organize hashtags on Instagram posts. 
Monitor content performance with access to complex analysis.
Schedule your social media content.
Conclusion
These are the best free social media management tools to help small businesses keep up with their audience. These tools also provide small business outlets the opportunity to gauge their social media performance.
However, small businesses should have it at the back of their mind that these 8 social media management tools all have premium plans. Some of these pricing plans have more exciting features than the free trial. 
It Is also important to note that the free trial on some of these tools is only for a limited period.
The whole essence of the free trial is to help small businesses have a taste of these tools before investing money on any of them. This is one of the reasons why you are not required to provide your credit card information before you can have access to social media management tools like ContentCal.
For any inquiries visit: https://socialmediamanagerforsmallbusiness.com/
Please follow and like us: