In this post, we'll walk you through an Enagic Review.
What we'll cover?
Learn about what is Enagic?
How does it work?
Is Enagic a scam or not?
Whether you should join this company or not?
Why 97% of people fail to make money through this company?
How you can make money with this company?
Some marketing ideas for you to work your way through Youtube.


What is Enagic?
Enagic is an MLM Company selling water filtration systems, tea, supplements, and soap. They are expensive as their Kangen water filtration or alkaline ionizer devices start from $1280 all the way up to $5980. But one thing to keep in mind is that even though they are expensive, they make good products. 
Founded in 1974 in the soils of Japan's city of Okinawa, they moved to the US in 2004. It is a pretty large company with offices in 34 countries of the world. This is because of the fact that they make quality products. 
There are several different ways you can make money with these products. We won't get into the details of the compensation plan but you can check out the video below to get more info about their plans. 
It comes under the direct sales industry, which is the largest in the world. A large chunk of direct sales emerges from the health and wellness industry.
Enagic Products
They have a plethora of products but can be classified into three major groups.
Water Filtration System – this product has 7 different models. 
Health products – various teas and health supplements
Soap
You can check their website for their full range of products. Click here to visit their online shop.

Why 97% of people fail with Enagic?
Enagic is a legit company with legit products. Moreover, their products lie in the top niche of our times, the health and wellness niche. Then why do 97% of the people fail at earning any significant amount of money with this program? That is the same case with many other MLM companies out there.

Marketing Strategies are Outdated
Many of the network marketing companies teach you outdated strategies. If you are posting a link on Facebook and expecting people to connect with Enagic and buy their products, you are in a difficult sail. 
But sadly, that is what most of these companies are teaching you to do. You might have tried that and looked for yourself that it doesn't work. 
If you started promoting to your friends and family, you realize how that's only a limited number of people. Many times they might not want to join you in your business. 
Where you actually need to go out and look for people who want to start a home business or people who are interested in your products for another reason. There are people who are actually concerned about their health and would be willing to make such an investment in their health. 
Here are a few things you might already be doing if you are into marketing for an MLM company like Enagic:
Taking to friends and family
Inviting people over meetings
Hosting parties yourself or hosting them with your neighbors
Going to job fairs to meet and interact with new people
Going to malls and distributing flyers
Hosting a website to book clients
Putting your links everywhere and waiting for people to act on them
Setting up a physical office to feel like you are working
Even then you are hardly making any sales. Here's the catch, you are not targeting your ideal clients but just trying to target anyone you can potentially come in contact with. 
For companies like Enagic, internet marketing can work best. As already mentioned, it's not as simple as putting your links everywhere. You might need to go through professional training for digital marketing and learn to target clients and generate leads. 

Marketing Ideas 
One way around is marketing through Youtube. Here are a few ideas for marketing:
Start a youtube channel and determine problems people have and then determine how your Enagic products can help them solve those problems.
Build email lists of people interested in starting a home-based business.
Use some keywords like:

Alkaline water machines
Water filtration system reviews
Home water filtration system reviews
Best MLM Companies

Install Keywords Everywhere Chrome Extension
People come to Youtube all the time to find solutions to their problems. They are especially looking for quick fixes, reviews and expert opinions on Youtube. They are also usually looking to buy something as well. The Keywords Everywhere Chrome Extension will help you locate keywords that are potentially being used for any video or Google search you make in your browser.
You are more likely to sell the product to people who are already looking for something of this sort as opposed to people who have no idea what these devices are good for.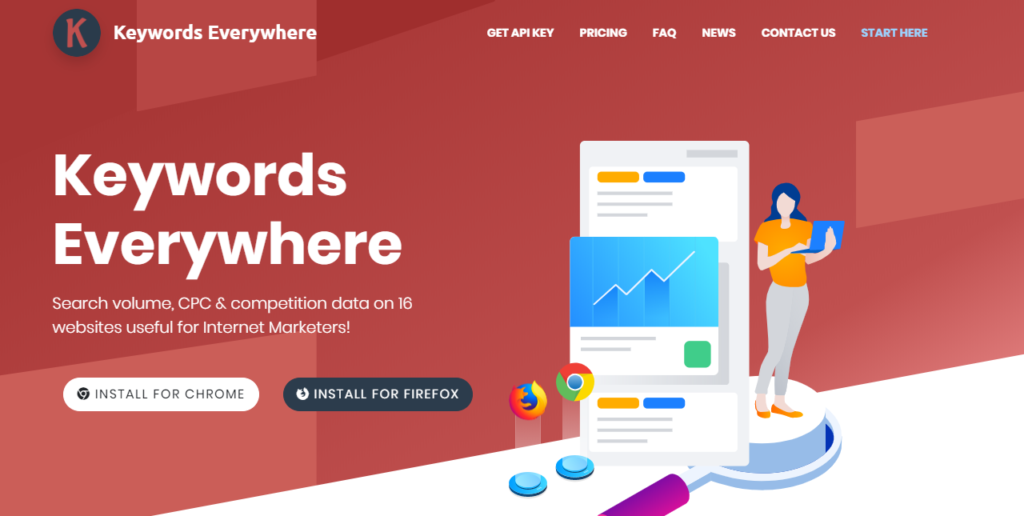 If you search for these 4 keywords you will realize how other people are doing it. You might not find many people doing it. So the competition is low. It will be easier for you to rank on them. 
Even if the search volume ain't that high you only need targeted customers who actually want to invest in these products. Since the commissions are pretty high, you can make a significant amount of income via these products.
I hope this Enagic review was of some help to you. We also saw how Enagic is not a scam but many people just don't know how to make sales to ear those commissions for such products.

Please follow and like us: