Are you looking into signing up with KashTree and wondering whether KashTree is a scam or is it legitimate?
You've probably seen a lot of people on social media promoting KashTree to make money just by referring it to other people. This post is going to be a KashTree review.

We'll see whether KashTree is a scam or legit.
What is KashTree?
An influencer network that pays you for sharing a referral link on social media platforms like Facebook, Instagram, Twitter, and YouTube. This marketing concept would be especially rewarding if you were considering becoming an Instagram influencer.
The website claims that it was founded in 2015 and that it has paid $44 million to more than 300,000 members. But if you check their domain name which is kashtree.com you will see that it was registered in 2019 August.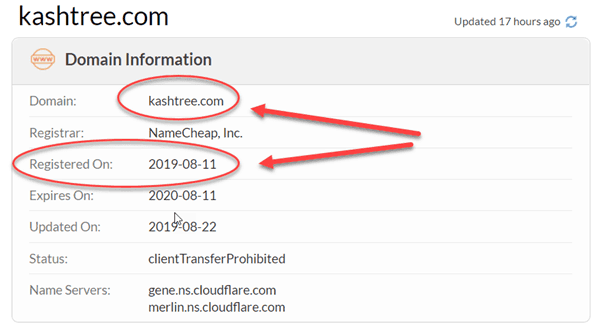 That's a red flag right there.
Other than that the FAQ session of KashTree and other scam products like Kids Make Money and Viral Bucks are ditto. Fishy again.
How does KashTree work?
You can sign up for free.
You get $2 for every time someone clicks your referral link.
You get $25 for every new sign up via your referral link.
Other ways to earn via KashTree are:
You can earn by doing CPA offers. Although in my research I did not find anyone being paid by doing CPAs.
There are various CPA offers available on their website. Other than that it asks you to promote gift cards.
You will also find promotional posts that you can put up on your social media sites. You will also find custom content for all the major social media sites like YouTube, Facebook, Instagram, and Twitter.
They claim that you can earn $500 a day just by referring KashTree to friends. $500 a day is very unrealistic unless you have a lot of people signing up through your referral link.
Their minimum payout is $200.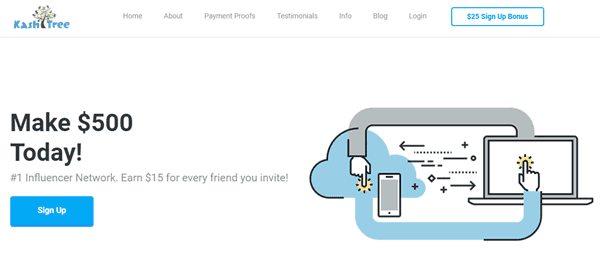 You get $25 for referring a friend who signs up, $2 for someone who clicks, $50 for when someone shares on YouTube.
The big question is, where is all this money coming from? I see this as a big red flag and it makes me question the legitimacy of the whole KashTree system.
Is KashTree a scam?
Yes, the KashTree is a scam. It is not legitimate and you will not get paid for whatever you earn from the app.
KashTree will never pay you probably because they never planned on paying you in the first place.
Even if they could their numbers don't add up and so they technically can't really pay you.
It just looks like a previously owned fraud scheme rebranded because the last one was filled out with negative reviews.

What do they get out of all this?
They are probably selling your information out to some companies or using your email, password and credit card numbers for some fraudulent activities. Because not everyone changes their password on every site they sign up for.
I hope this KashTree review was useful for you and you won't fall down the trap now.
What are ways you can make money online?
If you want to make money online. You need to first find a legitimate income source. We suggest checking out our free online training center for a collection of great ideas.
Inside, we not only share with you the best money making opportunities online today, but we also teach you how to make them profitable for you. Check it out today by clicking ==> https://WiFiEntrepreneur.com/Training-Center
Please follow and like us: